my favorite episode might be Marge On The Lam:
"I'm afraid sorry doesn't cut it with this pope!"
click here for link
"Free candy and sodas for all!"
"Marge, I got sprayed by this skunk. Oh, look! It's doing it again!"
"Don't worry. You'll feel better once we put your hair up in
curlers and give you a makeover, Homina."
"Oh, that would be delightful"
"Don't give that card to me"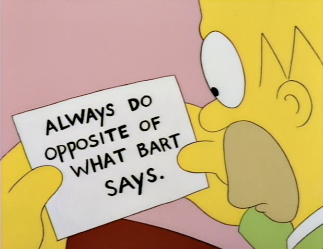 "Okay, two. And I get to keep this old bird cage!"
"Oh, sure, like lawyers work in big skyscrapers and have secretaries. Look at him! He's wearing a belt. That's Hollywood for ya."
"My cans! My precious antique cans!"
"As of this moment, Lionel Hutz no longer exists. Say hello to Miguel Sanchez!"
"A lot of big hair! What a freak!"
"There are ghost cars all over these highways, ya know."
"Hey, this isn't the YMCA..."
"It's in revelations, people!"