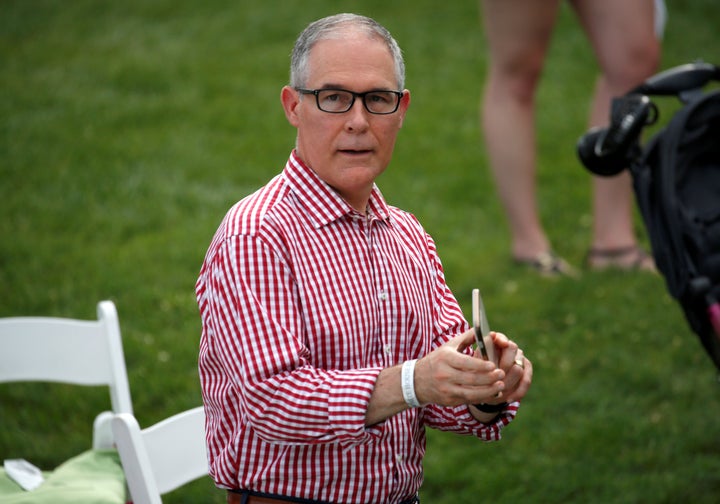 EPA chief Scott Pruitt resigns amid ethics scandals
Scott Pruitt abruptly resigned from the Environmental Protection Agency on Thursday, citing "unrelenting attacks on me personally, [and] my family." In a tweet, President Donald Trump said he had accepted Pruitt's resignation and announced that EPA deputy Andrew Wheeler would assume the duties of acting administrator.
"If you're hoping Wheeler could represent some sort of departure from Pruitt's (literal) scorched-earth agenda, he wouldn't. While it may be impossible to imagine anyone worse than Pruitt to lead our nation's environmental policy, plenty of individuals could be just as bad. And as he's shown us on numerous occasions, President Trump has a sixth sense for ferreting these people out and putting them on the executive-branch payroll.
So who is Andrew Wheeler? And what is it about his particular career trajectory that makes the White House, energy-company executives, and assorted climate deniers think he's a perfect fit for the Trump-era EPA?
Well, for starters, his most recent job was as an energy lobbyist. His biggest clients included Murray Energy Corporation, which proudly bills itself as the largest coal mining company in America, and whose CEO, Robert E. Murray, vigorously fought the Obama administration's attempts to reduce carbon emissions and strengthen environmental and public health laws. Shortly after Trump took office, Murray, an unabashed climate denier, presented Vice President Mike Pence with a ridiculously pro-coal "action plan" that called for doing away with the Clean Power Plan, withdrawing from the Paris climate agreement, eliminating federal tax credits for renewable energy, and—yes—halving the EPA's workforce.
In his spare time, Wheeler serves as the vice president of the Washington Coal Club, a powerful yet little-known federation of more than 300 coal producers, lawmakers, business leaders, and policy experts who have dedicated themselves to preserving the uncertain future of our dirtiest fossil fuel. Wheeler clearly loves coal, but he's also made time to lobby the U.S. Department of the Interior to open portions of the Bears Ears National Monument to uranium mining.
It gets worse. Before joining his current K Street lobbying firm, Wheeler worked as a legislative aide to Oklahoma Senator Jim Inhofe. Inhofe is without question the most virulent climate denier on Capitol Hill—a man who regularly refers to the science of climate change as "the greatest hoax" ever perpetrated on the American people and who told one radio interviewer that educating schoolchildren on the basics of climate science was tantamount to "brainwashing." When Wheeler's nomination was announced last year, Inhofe effusively praised the decision, saying that "there is no one more qualified than Andrew to help Scott Pruitt restore EPA to its proper size and scope." In that same statement, Inhofe referred to Wheeler as his "close friend"; indeed, the two are close enough that Wheeler thought it perfectly appropriate to organize a fund-raiser for Inhofe last May, an act that many believe crossed ethical lines."
click here for link